Tombstone Trail, Kendallville
---
Admire Autumn in Rural Indiana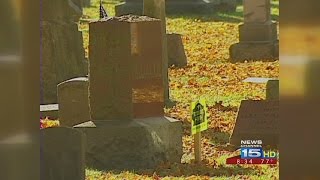 Historic cemeteries reveal secrets of the past along the Tombstone Trail in Huntington, Kosciusko, Noble and Whitley counties. Along an 85-mile stretch of historic U.S. 6, guided tours feature more than 65 monuments. Full stories are available at 10 cemeteries on the trail.
Be your own tour guide using tour books and QR codes at the gravesites. Stroll through the cemetery's grounds and admire the fall colors.
Take the Kendallville Historic Places Tour to see homes and building associated with those buried at Lakeview Cemetery while you're in the area.
Admire the view of a lake as you roam through 300 historic grave markers at Old Kendallville Cemetery. Restored in the 1930s by Daughters of the American Revolution, the cemetery's oldest monuments date back to the mid-1800s.
In the very large and serene Blue River Cemetery near Columbia City, walk among the stones in this quiet space surrounded by cornfields. Tour the grounds to discover its historic and heroic residents.
Both romance and tragedy can be found at South Park Cemetery in Columbia City.
Explore unique and beautiful tombstones in Huntington's Mount Calvary Cemetery. After touring the cemetery, visit LaFontaine's house across town at the Historic Forks of the Wabash.