Hit the Rails in the Whitewater Valley
---
Hit the Rails in the Whitewater Valley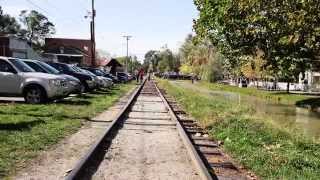 The Whitewater Valley Railroad traverses 19 beautiful miles. As an operating railroad museum, it offers a number of excursions that will give you breathtaking views outside the window and lots of fun inside that train.
Fall Foliage Flyer: Enjoy the beautiful fall foliage in the Whitewater River Valley between Connersville and Metamora on one of our Fall Foliage Flyer Excursions.
Valley Flyer: Visit Historic Metamora without worrying about parking!! Platted in 1838, Metamora is a restored canal town. Visit the working grist mill, restored canal and lock, operating replica horse-drawn canal boat, historic covered aqueduct, and over 40 shops and restaurants during the 2-hour layover.
Overland Limited: Wild West Train - All Aboard with a western twist. Join the Circle D Rangers as they protect the Metamora bound train. Come and see Bandits, Marshals, Robber Barons, Fancy and some Not So Fancy Women as you roll through the scenic countryside.
Metamora Canal Days Limited: October 6, 7 & 8, 2017 - Enjoy the annual Metamora Canal Days Festival without worrying about parking. Enjoy a scenic train ride though the Whitewater Valley on this Valley Flyer excursion. Relax as you travel back in time to the historic town of Metamora.