Fall may bring cooler temperatures, but our chills & thrills will keep you warm all season.
---
Nothing keeps you warm on a brisk evening like a good scare or a thrilling ride! Haunted houses, haunted mazes, haunted cornfields, haunted everything! Trips to our haunted attractions are sure to keep the blood warm on a brisk fall night. Perhaps you want to ride an exhilarating zipline through the forest or feel a rush with every turn, flip and plunge of a roller coaster. Our site has chills & thrills for all.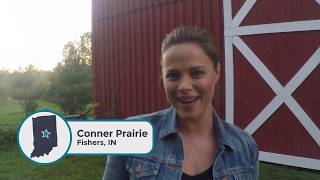 Also don't forget to check out our new vlog series, Katie's Home-State Adventures. Indiana's own former Miss America, Katie Stam Irk, travels throughout Indiana embarking on some exciting Hoosier adventures!
Watch the Vlog