Have you ever done something a little devious or even just daring and had someone tell you "Welcome to the dark side?" Well, the dark side just might be getting a bad rap when you consider all the family fun there is to be had at glow-in-the-dark Monster Mini Golf on U.S. Highway 36 in Avon, Indiana.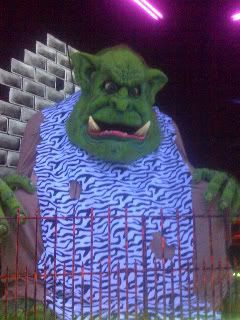 We headed to Monster Mini Golf last week as part of our spring break stay-cation. To be sure that we were well-fueled before hitting the (mini) links, the staff set my family up in the party room with a couple of yummy pizzas from local Randelli's Gourmet Pizza. As a mother of three whose hosted a more than a few birthday parties at several locations, this was by far the best party room I've been in. It was spacious with comfortable table seating for 20 people. Plus, there was a couch which would be a nice place for grown-up guests to relax while the party rages on. The monster-y, but not creepy, decor would definitely be a hit with tweens and above, though my 8-year-old loved it as well.
After lunch, it was time to get our glow-in-the-dark golfing on. I am not a huge fan of mini golf — I don't have the patience or the skill to get that darn little ball into the cup — but I honestly had fun at Monster Mini Golf.  Four things made it a place I would definitely go again:
The themed-decor.  I really got a kick out of the customized mural painted on the walls. Though Monster Mini Golf is a franchise, the mural is all about Indiana. Silly caricatures of David Letterman and Jared the Subway Guy gave me an honest chuckle. An over-sized, Shrek-like troll was more cuddly than creepy. Though there were a few scary-ish, Halloween-type statues around, the bright and colorful neon paint and golf balls really downplayed them. I have two easily scared kids and neither one of them had a moment's hesitation.
The music. I'm sure it will be an indication of my age when I say that at many places that cater to the tween and teen set, I leave wishing that I'd had earplugs. That was surprisingly untrue at Monster Mini Golf. The music was a complement to the fun we were having. The volume was just right and the selection of songs was fun. Tunes we heard when we were there included "Cotton-eyed Joe," "Walking on Broken Glass," and the theme song from Spongebob Squarepants.
The golf. Each of the 18 holes was challenging without being frustrating. There were obstacles to go through and around that were enough to keep it interesting without being ridiculously hard.
The weather-proof fun. Raining? No problem. Snowy and icy? Not inside Monster Mini Golf. Miserably hot? Step inside for some cool fun!
Parents should be forewarned that there are about a dozen arcade games available for playing, so either bring money for those or tell your kids ahead of time (as I did) that you're there for the golf, not the games. The fee for Monster Mini Golf is $7.50 for "big monsters" and $6.50 for "little monsters," as determined by height.
In addition to the location in Avon, folks near Lafayette, Indiana can check out the Monster Mini Golf located off County Road 350 South.
After our eyes adjusted to the light again, we went in search of somewhere to grab a snack. There are plenty of restaurants nearby, but the Urbanspoon app on my iPhone led us to Frost Bite, a mom-and-pop drive up ice cream joint. Less than a mile from Monster Mini Golf, Frost Bite was a great stop for my hungry monsters.
If you need any more convincing that a trip to Avon for some family fun is worth it, consider what might 8-year-old said on the way home:
"Mom, I could do this day again a 'fousand' times!"
Amy Magan received complementary goods or services from the organization(s) that was the subject of this blog post in exchange for blogging services. For more information, please see our
FTC Disclosure
page.