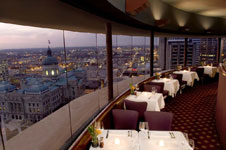 The Eagle's Nest Restaurant located in Hyatt Regency in downtown Indianapolis offers more than just fine dining and excellent service. Known as the "Most Romantic Restaurant in Indianapolis", the Eagle's Nest has a delicious menu and extensive wine list. The dim lighting atop the Hyatt Regency allows all of its guests to look out over the city of Indianapolis.  It is easy to become mesmerized by the 360 view.
My boyfriend took me to the Eagle's Nest for my birthday dinner a few weeks ago. After valeting at the Hyatt, we entered to hotel immediately awed by the grand inside. Inside the elevator we climbed story after story to the very top floor where the doors open and you step into the restaurant.
All of the waiters knew it was my birthday and along with a handwritten birthday card from the staff, they even gave us a complimentary dessert. It was a wonderful personal touch and truly made me feel special on my birthday.
Our meals were exceptional and the sights were magnificent. Who knows, maybe I'll even stay there next time.
For more information about the Hyatt Regency or the Eagle's Nest Restaurant visit their website.