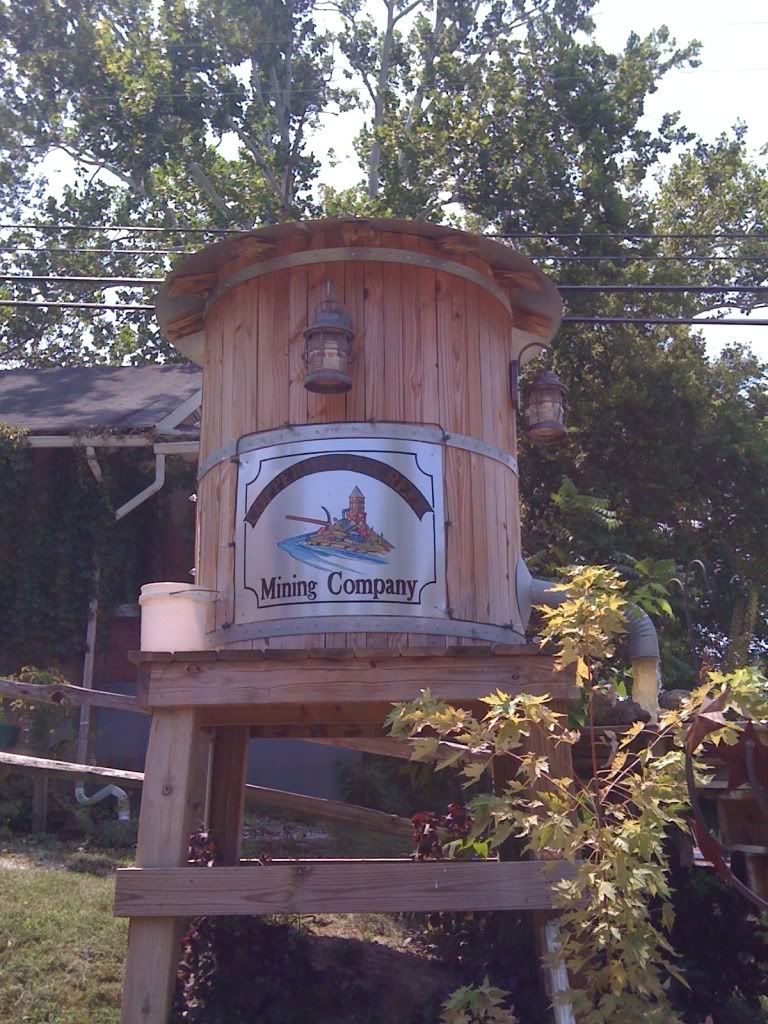 Well, fool's gold anyway.
My boys and I found several pieces of pyrite in our bucket of rocks and gems on a recent trip to the Copperhead Creek Mining Company in Nashville, Indiana. We were headed to Nashville to pick up my daughter from camp and I thought this little detour would be fun to do before we were due at camp.
As I explained where we were going and what we were going to do — look for gems and cool rocks — my 7-year-old declared, "That is totally lame, Mom!"
"I like lame," was my reply.
When we arrived in Nashville, I drove right past the Copperhead Creek Mining Company. I expected it to stand out a little more than it does. Instead, it's tucked among several buildings on Van Buren Street, Nashville's main drag. I won't miss it again the next time we go, but it just took me by surprise this time.
Copperhead Creek is owned by Matt and Amy Gray, who also own the Iris Garden Art Gallery and Iris Garden Downtown Cottages and Suites. Amy said that they decided to open Copperhead Creek because they felt that despite Nashville's many shops and galleries, there was a void of activities that would appeal to kids. Turns out panning for gems appeals to kids of all ages.
When we arrived for our visit, we found Amy in the art gallery. She took us over to the gem shop, got us set up with gem identification cards, small hand shovels, small plastic bags to put our finds in, and a 2-gallon bucket of rocks and gems. Ordinarily $32 for the big bucket, I'd pre-purchased it for just $16 through a deal offered on Groupon.
Amy walked us over to the sluice — a long water trough in which we would sift out the dirt and discover our gems —
and told us that it's best to put just one or two shovels full into the mesh pan at a time. Obviously she'd never met my boys before. We pulled up our tree-stump seats and got started.
After only one or two dunks in the water, which yielded several shiny stones of pyrite, quartz, obsidian and some really pretty blue rocks whose name I've forgotten, my son who was just so sure this was the dumbest of ideas exclaimed, "Mom, this is the best thing ever! I love this!"
My 11-year-old was very interested in sifting through the rocks left in his pan to find the sparkling surprises that awaited him. He enjoyed digging out the gems and then matching them to the identification card to determine what he'd just found. His younger brother had less patience for the careful sifting and waived Amy's suggestion that he only put one or two shovelful's in the pan at a time.
Consequently, we found the bottom of our 2-gallon bucket in just under an hour. Another family with more patient children had purchased the same size bucket and had been there for more than two hours. There is no time limit, so you can stay at the sluice for as long as your gems and patience last.
If you want to try your hand at gem mining, but think a big bucket is too much, Copperhead Creek also offers smaller bags of gem mixes ranging in price from about $6-10. You can also purchase a mix that yields fossils or arrowheads. I think maybe we'll look for arrowheads next time.
Set in the hills of Brown County, Nashville is a popular autumn destination. If you think you'd like to visit during the fall foliage season to pan for gems, shop and enjoy the colors offered by the changing leaves, plan your trip and make your reservations now. To learn more about Nashville and all the fun it has to offer, click here.