If you've ever wondered how huge logs get transformed into works of art, wonder no more. Instead, visit St. Croix, Indiana (Perry County) from September 18 – 20 to the annual Bear Hollow Fall Fest for the chainsaw carving competition and demonstration. The festival is expected to attract 15,000 people.
Eight of the top carvers from around the country will descend on St. Croix to carve and shape logs into a variety of shapes. Each competitor is expected to create about 20 pieces each — anything from bears and eagles to outdoor benches and chairs. The carvings will be auctioned off at 4:00 p.m. on Saturday and Sunday.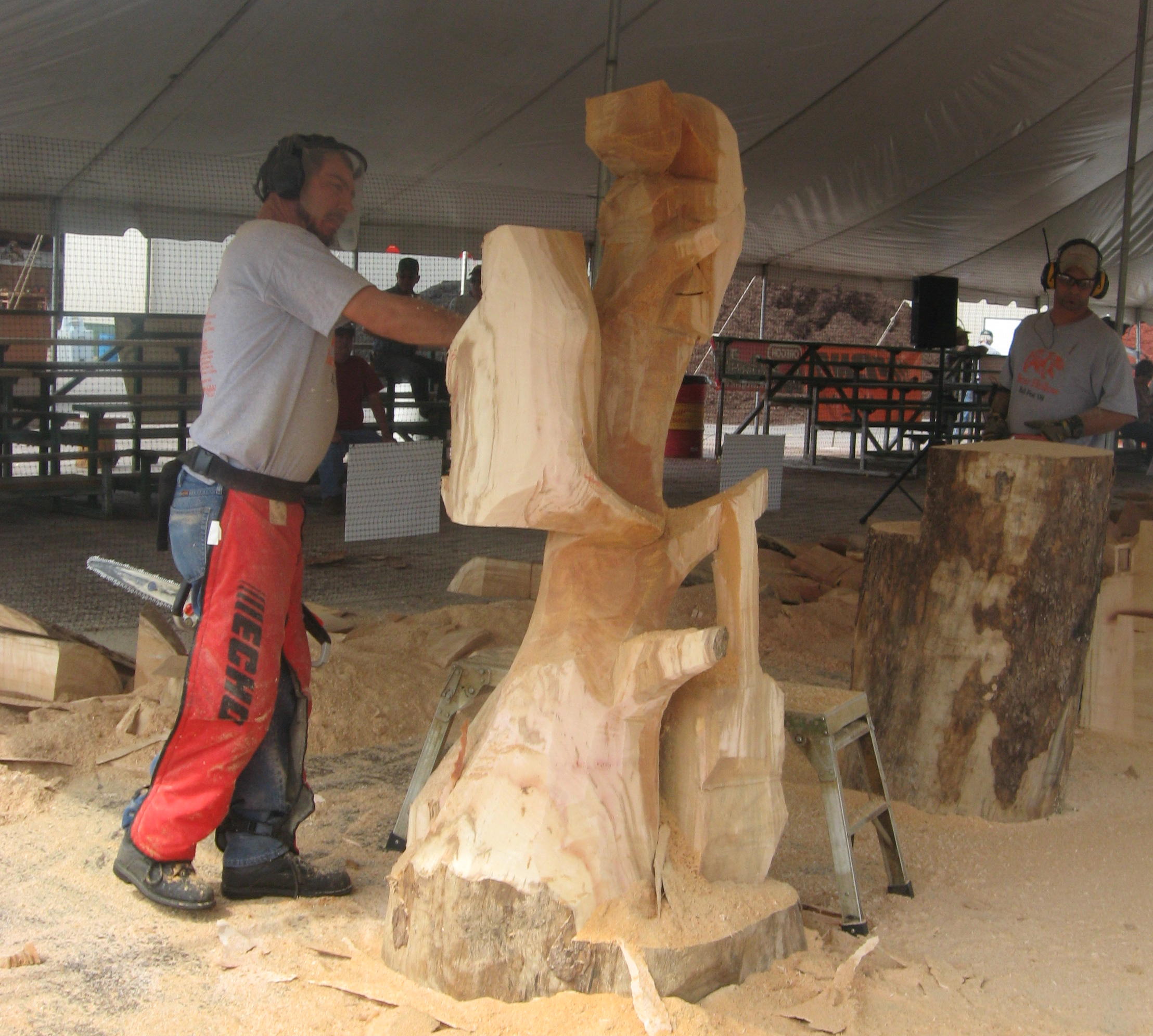 The festival will take place at Bear Hollow, a carving studio in St. Croix, which is home to Indiana Artisan, Jason Emmons, one of four carvers on the Echo Outdoor Power Equipment National Carving Team.
In other news, there is such a thing as a national carving team. In more news, they have sponsors for this sort of thing.
Emmons travels around the country to compete, give demonstrations, and even carve projects for people and companies. He says he can do a bear in 20 minutes, but it takes him as long as 20 hours to do really intricate projects, like Elvis Presley. Bringing a whole lot of great variations on the phrase, "does a bear pooh in the woods?"
During the festival, visitors can tour the sawmill, enjoy live country music, check out the antique tractor show, take carriage rides through the rolling hills of Perry County, and meet with artisans, who'll demonstrate and sell their crafts. In addition wood carvers, jewelry makers, glass blowers, painters and ceramic artists are expected.
Admission is $1 for adults and children over age 5.
BEAR HOLLOW FALL FEST HIGHLIGHTS
9 a.m. to 5 p.m., Friday, Sept. 18
Chainsaw competition, artists and craft demonstrations
Indiana Department of Natural Resources providing educational, hands-on activities
Dining areas will include fish dinners, hamburgers, hot dogs, popcorn and more.
9 a.m. to 5 p.m., Saturday and Sunday, Sept. 19-20
Chainsaw competition, artists and craft demonstrations.
Live music throughout the day.
Sawmill tours
Carriage rides
Early Days Antique Club Antique Farm Show, including wheat threshing, lime crushing, straw baling and more
Snake and raptor programs by the Indiana Department of Natural Resources – Sunday only
Blue Heron Winery wine tasting and sales – Sunday only
Hands-on educational activities for children, including learning to build a bird house
Dining area will feature chicken and fish dinners
For more information on the festival or Bear Hollow, visit www.bearhollowindiana.com.