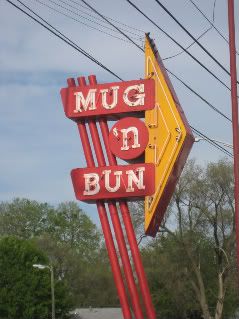 If you are headed to the Indianapolis Motor Speedway, plan to make a pit stop at the nearby Mug N'Bun drive-in restaurant. A westside Indianapolis fixture for almost 50 years, I only recently discovered it through the Smaller Indiana "Hole in the Wall" lunch club.
The first time I went, my husband and I made it a lunch date. As we sat at the picnic tables drinking our homemade rootbeer and sharing a basket of fries, Mike and I both thought, "We have to bring the kids here." So we did last weekend.
We weren't the only ones who deemed Mug N'Bun to be Mother's Day-worthy. Most of the drive-in
parking spots were full, as were most of the picnic tables on the deck. Once we decided what to order, we hit the tabletop buzzer to summon our waitress. While we waited for our food, the kids checked out the jukebox and watched a rabbit in the grass beyond the fence.
Soon enough we were enjoying our dinner. Mine was the oversized pork tenderloin with fried mushrooms (hey, it was Mother's Day). Everyone else had hamburgers and fries, with the exception of Charlie who opted for the pizza puff, the only disappointing item on our table. It was delicious homemade root beer all around plus one fountain Diet Coke with vanilla syrup for Mike.
I don't know if it was the old time feel or the creamy root beer or the sun shining down on us as we ate, but Mug N'Bun is somewhere I'll gladly be a repeat customer. To go, follow this map.
If drive-in food is what you're craving, but you aren't near Speedway, check out these other long-standing Indiana eateries:
Bummie's Drive-in — Bluffton, IN
Arnold's Rock-n-Roll Drive-in — Decatur, IN
Triple XXX Family Diner & Drive-in — Lafayette, IN
(Indiana's first drive-in restaurant, named after a then-popular brand of rootbeer)
If you know of other Indiana drive-ins that I missed, please leave a comment and let us know all about them. (Sonic doesn't count!)